Guest Information
The Barns at Cooper Molera Guest Information
We are still working out some of our finer details, and will be updating this page frequently, so please check back or call us directly if you do not find the information you are looking for.
We are a Historic property that has been rehabilitated, and with that you will find many rustic features dating back to the early 1800s as well as some new features that allow for safety and comfort to be considered for our guests.

The Barns are located in Monterey, where a mild climate ensures the highs are never too high and the lows are never too low, making it a beautiful destination for all special occasions. However, please keep in mind the Monterey climate is regulated by its proximity to the Pacific Ocean and can be cool and at times.

Our venue is an indoor/outdoor facility. We recommend dressing in layers as most events will have activities outdoors.
The venue staff will be setting up and preparing the facility for your host's event, and therefore they will not be ready to assist guests any earlier than 10 minutes before the event's start time. Please do not arrive any earlier.

We have a no-smoking policy in and around the Cooper Molera property.

There are two guest restrooms in The Barns event center, as well as restrooms for the entire property that are within just a few yards from The Barns.

The property, with the exception of the upstairs Jockey Loft, is ADA accessible.

While Cooper Molera is generally child friendly, we are not a playground. Children must be supervised.

There are several parking lots within walking distance of The Barns. Your Event Manager will be sending you a map.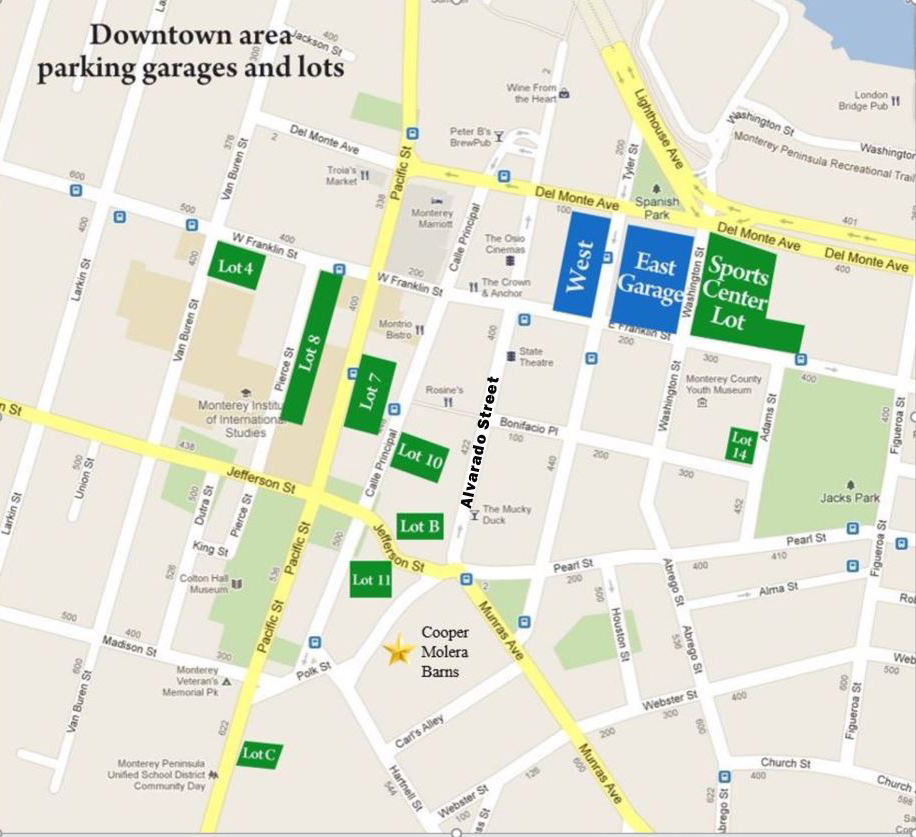 Local Activities
Monterey County has been described as the greatest meeting of land and sea, encompassing some of California's most stunning scenery while offering world-renowned attractions and recreation, To find out more about our area and the local activities, please visit the Local Area Information page on our Events by Classic Group website.
Lodging
The Barns at Cooper Molera are located in downtown Monterey. Sitting on the far south side of downtown Monterey's main street, Alvarado, we are within walking distance to four hotels. Those and other lodging options will be added to this site in the near future.